Cnc ultra-high marble Waterjet Cutting machine with five-axis cutting head
Five-axis dynamic cutting head will typically add an A axis (angle from perpendicular) and an C axes (rotation around the Z-axis) on the normal axes on a water jet are named X (back/forth), Y(left/right) and Z (up/down).
The main purpose of five-axis cutting head is to compensate tilting degrees, to make the finished edge completely vertical,which the bottom surface geometries are shifted a certain amount to produce the appropriate angle and the Z-axis remains at one height .This cutting head has already performed excellently in many cutting fields to reduce processing cost and increase working efficiency. This can be useful for applications like weld preparation where a bevel angle needs to be cut on all sides of a part that will later be welded, or for taper compensation purposes where the kerf angle is transferred to the waste material - thus eliminating the taper commonly found on water jet-cut parts.
The biggest angle of inclination is 10 degrees and can accurately adjust the degree of the rotation ,the angular accuracy of rotation axis is 0.01 degrees.
Due to tilting degree compensation, the distance between cutting head and surface of workpiece need to be very accurate.The height positioning accuracy of five-axis is 0.01mm and cutting accuracy is 0.1mm, which can meet various cutting requirements.
In the marble matching process, water jet cutting with a five-axis cutting head design is simply amazing.There is a more delightful result in marble pattern cutting . When the tilt angle of cutting head is the biggest 4 degree, the kerfs section will change a lot. When two pieces of cutting parts are matching together, the top surfaces have no aperture but the one of bottom surfaces is big. In this way the twice polishing producer by manual will be saved, which reduces the processing cost and enhances the working efficiency. With this improved five-axis dynamic cutting head design, it is no longer a difficult technique in marble matching. It made traditionally complex marble matching an easy job.The quality of marble pattern has had a great increase and the making of pattern has no longer been a very difficult technology at the same time. If only you had a five-axis dynamic water jet marble pattern cutting machine, the complex marble pattern production would soon come true.
The same methodology is also applicable in glass straight-hole drilling. As an example, when piercing holes in glass, it is not necessary to decrease the cutting speed in order to get straight holes. The ideal effect can be achieved without changing cutting speed, and that is highly beneficial!
PROVIDE LOCAL SERVICE IS FOR FREE.
Water Jet Cutting Machine Features:
1. Numerical control of various complicated patterns;
2. It is cold cut, does not produce thermal deformation or thermal effect;
3. Environmental protection, no pollution, no toxic gases and dust;
4. Can process a variety of high hardness materials, such as: glass, ceramics, stainless steel, etc., or relatively soft materials, such as: leather, rubber, disposable diapers;
5. It is the only means of complex processing of complex materials and fragile porcelain materials;
6. The cut is smooth, no slag, no need for secondary processing;
7. Drilling, cutting and forming work can be completed at one time;
8. Low production costs;
9. High degree of automation;
10.24 hours of continuous work
WAMIT Cnc Glass Water Jet Cutting Machine WMT3020-AL is the top sell model in our company. it is with bridge type. cutting size is 2*3m ( 10'*6.56') . we can do 220V/380V and 415V for customers. this water jet cutting machine software is in English and Chinese, but we have imported software which can support more than 20 languages.
this abrasive waterjet cutting can cut rubber, pvc, glass, steel, marble, granite, brass, steel as follows.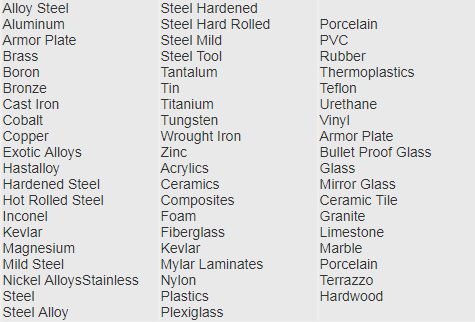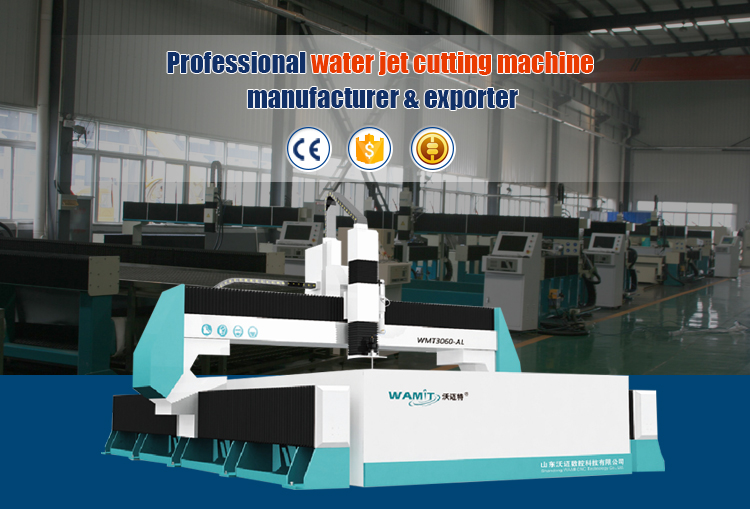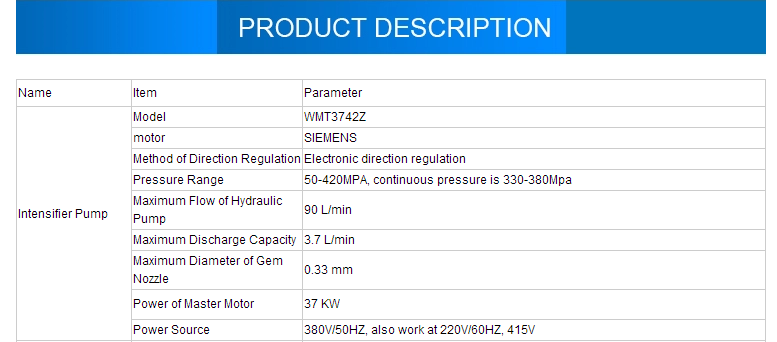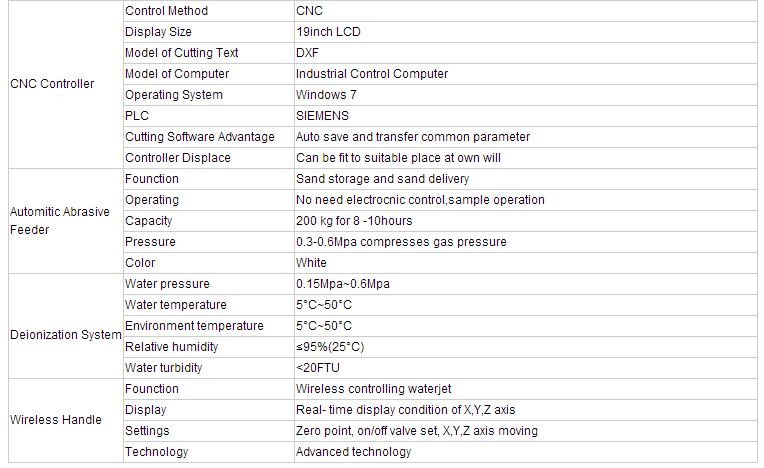 Our waterjet cutting machine Advantages:
1.37KW SIEMENS motor
2.All electric components are Schneider brand
3.Can do special size and special design according to customer`s demand
4.Free abrasive sand feeding system
5.We have most convenient automatic abrasive sand removing and recycling system for any brand water jet cutting machine
6.Imported intensifier pump
7.Use 8mm steel to make the cutting table stronger and keep the precision time for whole life
8.Soft cover for linear guider or gear and rack, can effectively prevent dust
9.Install an automatic oil tank for cutting table , no need maintenance of linear guider
10.Legitimate WINDOWS 7 system and install the Chinese newest water jet cutting system
11.TBI linear guider and ball screw
12.Variable servo pump can reduce the electricity cost
13.We have agents in America, Russia, South Africa, Ecuador,UK, Argentina, Chile.Mexico,Australia,Saudi Arabia,Malaysia.Vietnam
14.We can make machine moving speed to 10-50m/min which will improve your cutting efficiency
15.We are finding agent all over the world

Models of Bridge type CNC waterjet cutting machine

Model number

X Axis

(mm)

Y Axis

(mm)

Z Axis

(mm)

WMT1010-AL

1000

1000

150-200

WMT1515-AL

1300

1300

150-200

WMT2015-AL

1500

2000

150-200

WMT2515-AL

1500

2500

150-200

WMT2520-AL

2000

2500

150-200

WMT3015-AL

1500

3000

150-200

WMT3020-AL

1800

3000

150-200

WMT4020-AL

1500

4000

150-200

WMT4030-AL

1800

4000

150-200

WMT5020-AL

2000

5000

150-200

WMT6020-AL

2000

6000

150-200

WMT8020-AL

2000

8000

150-200

WMT12020-AL

2000

12000

150-200

WMT5030-AL

3000

5000

150-200

WMT6030-AL

3000

6000

150-200

WMT8030-AL

3000

8000

150-200

WMT12030-AL

3000

12000

150-200

Models of cantilever type CNC waterjet cutting machine

Model number

X Axis (mm)

Y Axis (mm)

Z Axis (mm)

WMT1010-AX

1000

1000

150-200

WMT1515-AX

1300

1300

150-200

WMT2015-AX

1500

2000

150-200

WMT2515-AX

1500

2500

150-200

WMT2520-AX

2000

2500

150-200

WMT3015-AX

1500

3000

150-200

WMT3020-AX

1800

3000

150-200

WMT4015-AX

1500

4000

150-200

WMT4020-AX

1800

4000

150-200

WMT4030-AX

2000

4000

150-200

WMT5020-AX

2000

5000

150-200

WMT6020-AX

2000

6000

150-200

WMT8020-AX

2000

8000

150-200

WMT9020-AX

2000

9000

150-200

WMT10020-AX

2000

10000

150-200
CUTTING SAMPLES: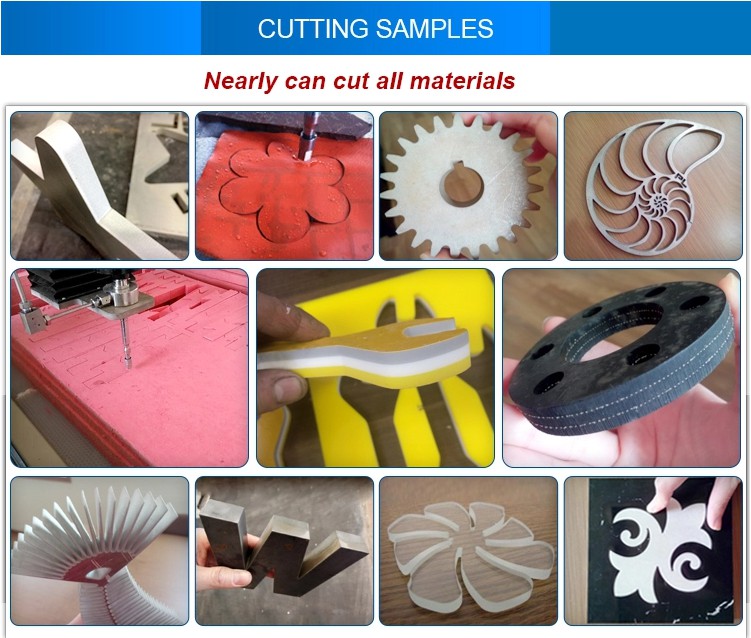 OUR SERVICE OVER WORLD:

1. What kind of material does your water jet cutting machine can cut?
There are plenty materials our water jet cutting machine can cut, such as stone, ceramic, quartz, glass, foam, plastic,
rubber, copper, brass, aluminum, mild steel, pre-hardened steel, titanium, inconel and hastalloy
2. What's your cnc water jet cutting machine's max.cutting thickness?
Generally speaking, if cut steel the max thickness of our water jet cutting machine can be up to 240mm, but we suggest
cut not more than 150MM for smooth cutting. now our Z axis distance is 170mm, we can do special for customers.
3. How we supply after-service?
Some countries we have after-service department, we will provide local service, if have no local service,
we will arrange engineer for overseas installation and training. The installation and training time is generally 7-10 days.
And we also can provide installation videos.
4. What's your delivery time?
Generally speaking is 30 days. if have stock, 15 days.
5. if you are manufacturer or trader?
we are factory, and our factory is in JINAN city, China.
6. what's your warranty?
2 years (2500 hours).
Looking for ideal Water Jet Tile Cutter Manufacturer & supplier ? We have a wide selection at great prices to help you get creative. All the Waterjet Stone Cutting are quality guaranteed. We are China Origin Factory of Abrasive Cutting Machine. If you have any question, please feel free to contact us.
Product Categories : Water Jet Cutting Machine > 5 Axis Water Jet Cutting Machine